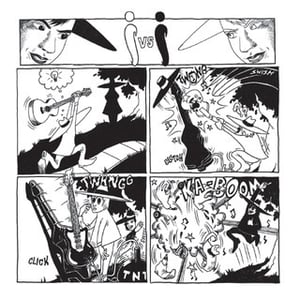 $

15.00 - On Sale
This little beauty is a page out of my album art. Based on the classic "Spy Vs Spy" comics as seen in every bloody Mad Magazine around, this was carefully drawn by the very talented Nicholas French. I went to school with Nick and I sold him my copy of Rancid "And Out Come The Wolves" in year 11. He's in a rad band called Crabsmasher too.
Very cool, hey? Yes. I didn't put my name on it. It's called de-branding. It's so cutting edge you haven't even googled it yet. Australian sizes: GIRLS 10, 12, 14, Mens S $25 AUD + postage.
If you are outside of OZ and want to purchase this, email me laura@lauraimbruglia.com with your address and I'll find out postage costs.